Global Collaborations Driving Global Progress
The AACR reaches across national borders, having collaborated with scientific organizations on five continents in 2021 to explore the frontiers of cancer research and to develop the global workforce needed to expand them.
Joint Conference and Workshops
The AACR worked with cancer research organizations around the world to produce the following joint conferences, educational workshops, and symposia in 2021:
Annual Symposium on Global Cancer Research
March 10–11; Virtual
The goal of the symposium was to integrate and disseminate current scientific knowledge in global cancer control and to support global scientific collaboration. The two-day program focused on fundamental issues of equity and resilience in response to the challenges of 2020 and 2021, including the ongoing COVID-19 pandemic and the global movement for racial equity.

The AACR organized the symposium in collaboration with the U.S. National Cancer Institute Center for Global Health (NCI CGH), the Consortium of Universities for Global Health, the Dan L. Duncan Comprehensive Cancer Center at Baylor College of Medicine, the Sidney Kimmel Comprehensive Cancer Center at Johns Hopkins University, the University of Texas MD Anderson Cancer Center, and the American Society of Clinical Oncology. The symposium abstracts were published along with a commentary on the meeting in a special online-only supplement to the AACR journal Cancer Epidemiology, Biomarkers & Prevention.
JCA-AACR Precision Cancer Medicine International Conference
September 10–12; Virtual
Cochaired by AACR Past President Elaine R. Mardis, PhD, FAACR (near right), and Hiroyuki Mano, MD, PhD (far right), this new collaboration between the Japanese Cancer Association (JCA) and the AACR showcased the latest advances in precision cancer medicine. The cutting-edge program included sessions on liquid biopsy, immuno-oncology, and artificial intelligence in precision medicine. While the inaugural conference was offered in a virtual format, future conferences will be held in Japan every two to three years.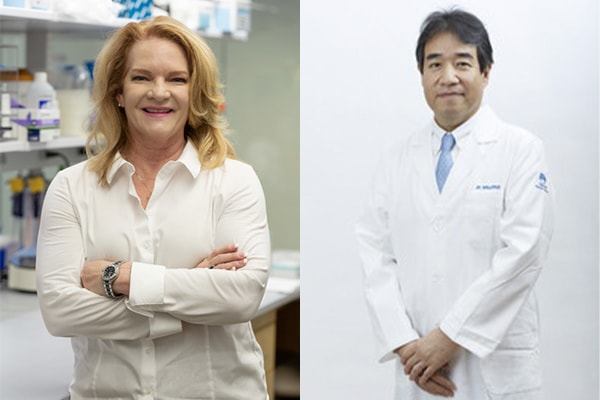 AACR-KCA Joint Conference on Precision Medicine in Solid Tumors
November 11–12; Seoul, Republic of Korea
This second joint conference between the AACR and the Korean Cancer Association (KCA) was originally scheduled for 2020, but it was postponed to 2021 in response to the COVID-19 pandemic. Chaired by William C. Hahn, MD, PhD, and Dong-Wan Kim, MD, PhD, the conference addressed critical topics in precision medicine, including clinical trials in immuno-oncology, proteogenomics, preclinical models, targeting the RAS pathway, and novel discoveries in drug screening.

A highlight of the program was the Waun Ki Hong Memorial Lecture, which honored the AACR past president and Fellow of the AACR Academy. Gou Young Koh, MD, delivered the lecture on "Tumor microenvironment: Challenges and opportunities."
AACR on Campus, in Partnership with SLACOM
November 23, November 30, December 2; Virtual
The AACR collaborated with the Latin American and Caribbean Society of Medical Oncology (SLACOM) to develop this program to provide a thorough education in implementation science to academic and cancer research institutions in Latin America. The program was designed by cochairs Ophira Ginsburg, MD, MSc, International Agency for Research on Cancer, Lyon, France; Raúl Murillo, MD, MPH, Javeriana Center for Oncology, University Hospital, San Ignacio, Bogotá, Colombia; Silvia Neciosup, MD, National Cancer Institute of Peru, Lima, Peru; and Gilberto Schwartsmann, MD, Academic Hospital, Federal University, Porto Alegre, Brazil.

The three-day virtual program explored the links between implementation research and practice as applied to cancer detection, prevention, and care, and outlined processes for the successful incorporation of evidence-based practices. The sessions included training in career development skills such as manuscript writing and scientific communication.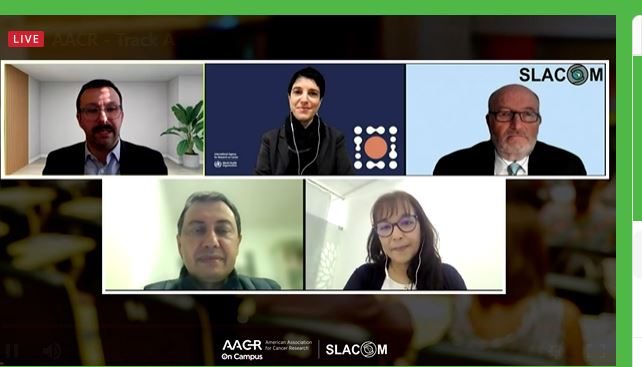 Other International Collaborations
The AACR worked with several organizations to develop joint sessions for the following international conferences:
EACR Congress
June 9–11; Virtual
AACR President David A. Tuveson, MD, PhD, FAACR (right), joined European Association for Cancer Research (EACR) President Caroline Dive, PhD, to cochair the AACR-EACR Joint Symposium on "Targeting MYC and RAS Driven Cancer."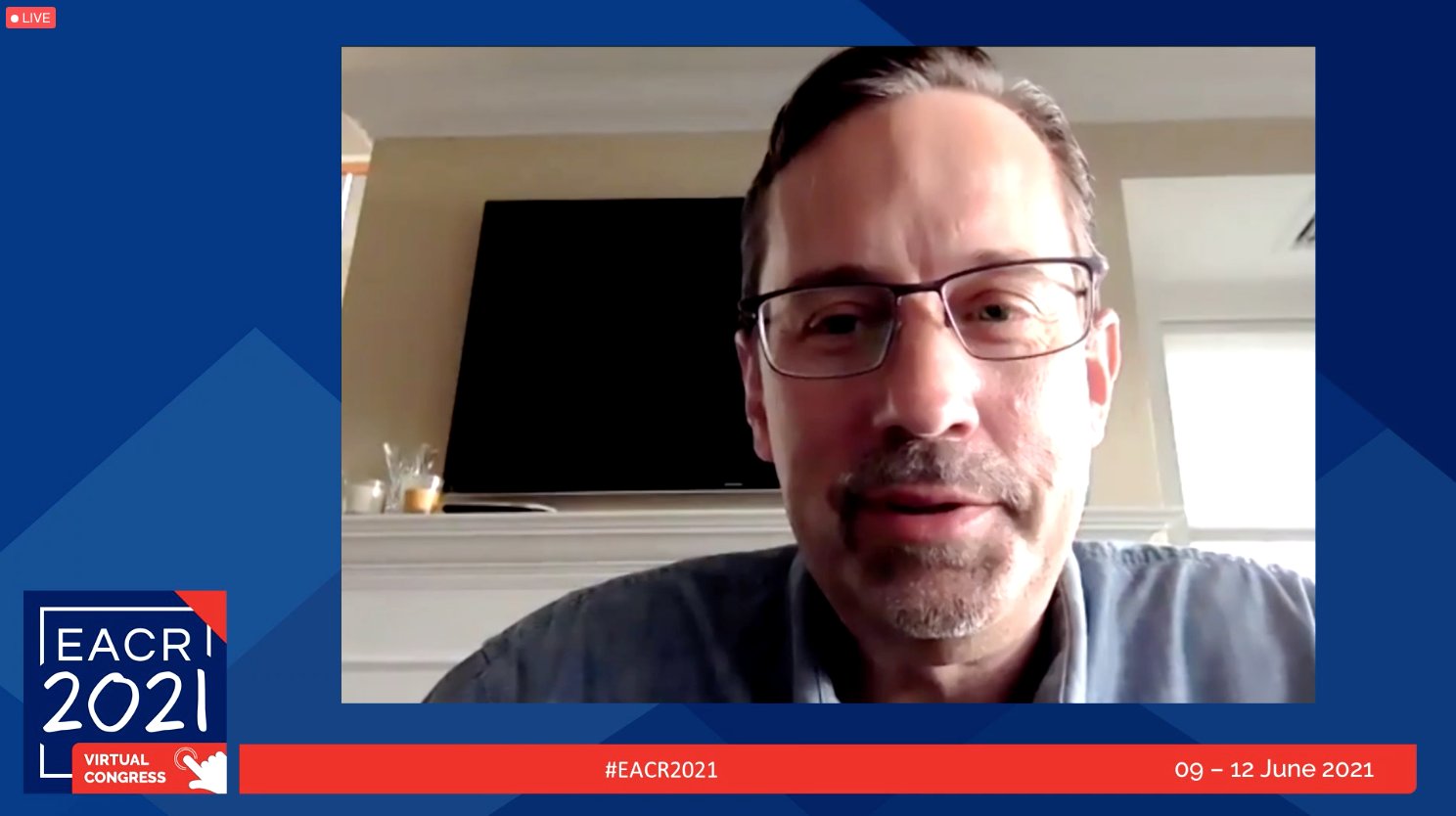 International Conference on Malignant Lymphoma
June 18–22; Virtual
The AACR worked with the International Conference on Malignant Lymphoma (ICML) to develop two highlights of the scientific program:

Blood Cancer Discovery editor-in-chief Riccardo Dalla-Favera, MD, FAACR, and Olivier Elemento, PhD, cochaired an AACR-ICML Joint Session on "Artificial Intelligence in Lymphoma Diagnosis and Treatment."
The AACR continued its sponsorship of the Gianni Bonadonna Memorial Lecture in honor of AACR member and ICML cofounder Gianni Bonadonna, MD. Ash A. Alizadeh, MD, PhD, delivered a lecture on "The architecture of liquid biopsy research for lymphoma monitoring."
Frontiers in Cancer Science
November 1–3; Virtual
The AACR worked with the Singapore-based organizers of Frontiers in Cancer Science (FCS) to offer three joint Education Sessions:

"Cellular Senescence: Role in Aging and Cancer," presented by Jesús Gil Valles, PhD
"Mechanisms of Response versus Resistance to Cancer Immunotherapy," presented by Thomas F. Gajewski, MD, PhD
"How to Survive in Academic Science," presented by Gerard I. Evan, PhD, FAACR
XXII Brazilian Congress of Clinical Oncology
November 17–20; Salvador, Brazil
The Brazilian Congress of Clinical Oncology (SBOC) and the AACR organized a joint session on "Translational Medicine." Presenters included AACR Past President Carlos L. Arteaga, MD, FAACR, Victor Velculescu, MD, PhD, Carlos Gil Moreira Ferreira, PhD, and Antonio Carlos Buzaid, MD.
Travel Awards and Grants
In 2021, the AACR developed new partnerships to expand its slate of opportunities for international investigators:
2021 Global Scholar-in-Training Award. The AACR Global Scholar-in-Training Award (GSITA) program was designed to provide support for attendance at the AACR Annual Meeting to meritorious early-career scientists from countries that are building cancer research capacities. However, when the AACR Annual Meeting 2021 was held virtually in response to the ongoing pandemic, the GSITA program was reconstituted as an online program.

GSITA recipients participated in four virtual programs during the meeting: a Flash Presentation Poster Session, in which awardees introduced themselves and their work; an Alumni Networking Session where current and previous GSITA recipients networked with each other and learned about AACR initiatives; a Career Development Session featuring advice from distinguished senior AACR members from around the world; and a Slack Workgroup to facilitate communication and connection during the meeting.
Beginning Investigator Grants for Catalytic Research. Originally founded in 2010 by the NCI CGH in partnership with the African Organisation for Research and Training in Cancer (AORTIC), the Beginning Investigator Grants for Catalytic Research (BIG Cat) program supports two-year cancer research projects conducted by early-career investigators in Africa in order to expand and develop the cancer workforce on the continent. In November, the AACR announced a new partnership with NCI CGH and AORTIC to administer the next cohort of BIG Cat grants. Beginning in 2022, the AACR-administered grants—which are made possible through the support of Takeda Oncology—will provide up to $55,000 over two years to support research projects conducted in Africa by African investigators.