sections
Revenue and Expenses 2021
Similar to the prior year, 2021 was a challenging year for the AACR due to the continued global pandemic and the resulting economic uncertainty. As outlined below, the impact of COVID-19 on AACR programs and services resulted in declines in both operating revenues and expenses. However, due to responsible financial oversight and prudent risk management strategies, the AACR is projected to generate a surplus for the year. Strong returns from AACR's investments coupled with additional income from non-recurring activities related to meeting event cancellation insurance contributed to this surplus.
As a result of the financial performance for the year 2021, the AACR's net unrestricted net assets are now $155 million. These positive financial results allow the AACR to continue strategic investments in its mission-driven activities to prevent and cure all cancers.
2021 TOTAL EXPENSES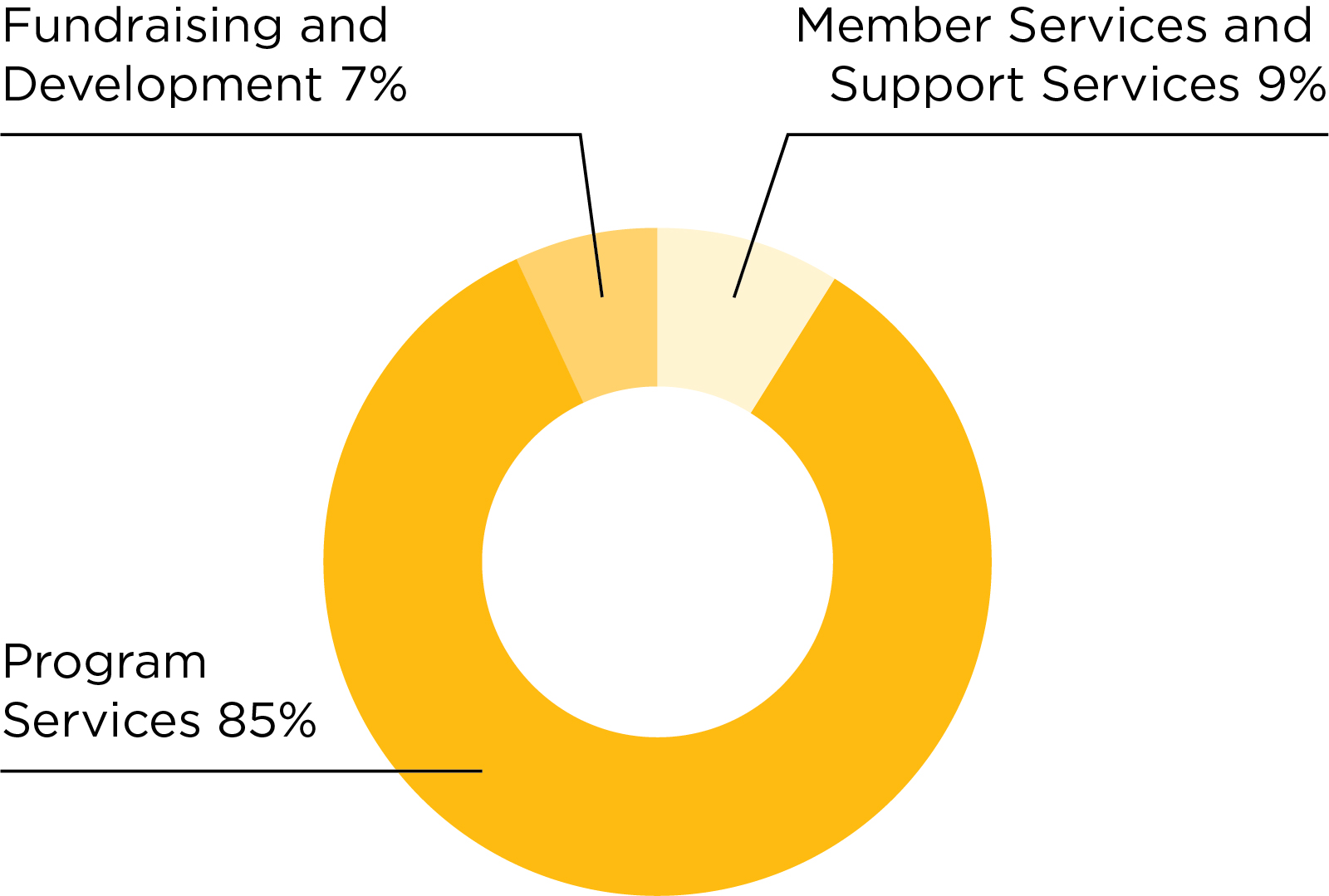 Note: Totals may not equal 100% due to rounding.
2021 PROGRAM EXPENSES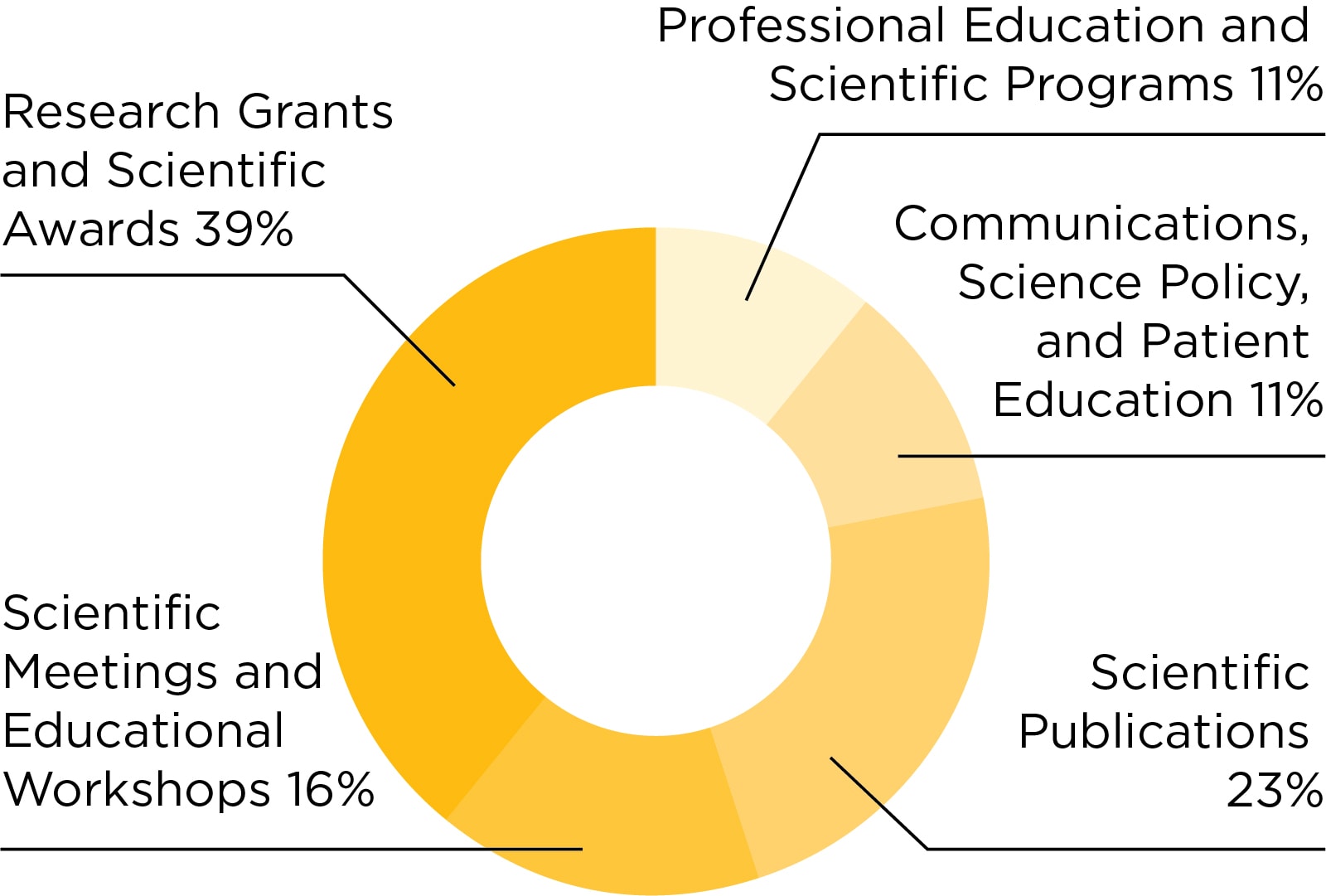 American Association for Cancer Research, Inc. and the AACR Foundation
Unrestricted Revenues and Expenses (Unaudited)
As of December 31, 2021
| | | | | | | |
| --- | --- | --- | --- | --- | --- | --- |
| | | 2020 | | 2021 | | 2021 Percent of Total |
| | | | | | | |
| REVENUE | | | | | | |
| Membership Dues | | $4,208,008 | | $4,273,800 | | 6% |
| Publications | | $18,928,229 | | $19,781,338 | | 27% |
| Scientific Meetings and Educational Workshops | | $3,163,862 | | $14,703,304 | | 20% |
| Other Revenue | | $10,007,708 | | $5,818,466 | | 8% |
| Subtotal Program Revenue | | $36,307,807 | | $44,576,908 | | 61% |
| | | | | | | |
| Support | | | | | | |
| NIH Grants | | $115,500 | | $482,635 | | 1% |
| Contributions | | $51,093,657 | | $28,310,646 | | 39% |
| Subtotal Support Revenue | | $51,209,157 | | $28,793,281 | | 39% |
| | | | | | | |
| TOTAL REVENUE | | $87,516,964 | | $73,370,189 | | 100% |
| | | | | | | |
| EXPENSES | | | | | | |
| Research Grants and Scientific Awards | | $45,519,345 | | $22,524,121 | | 33% |
| Scientific Meetings and Educational Workshops | | $11,474,114 | | $9,064,752 | | 13% |
| Scientific Publications | | $12,840,789 | | $13,437,611 | | 20% |
| Communications, Science Policy, and Patient Education | | $7,130,366 | | $6,643,025 | | 10% |
| Professional Education and Scientific Programs | | $8,586,010 | | $6,534,163 | | 9% |
| Subtotal Program Services | | $85,550,624 | | $58,203,672 | | 85% |
| | | | | | | |
| Member Services and Support Services | | $7,039,520 | | $6,051,308 | | 9% |
| Fundraising and Development | | $4,354,087 | | $4,599,587 | | 7% |
| Subtotal Supporting Services | | $11,393,607 | | $10,650,895 | | 15% |
| | | | | | | |
| TOTAL EXPENSES | | $96,944,231 | | $68,854,567 | | 100% |
| | | | | | | |
| Operating Surplus before Investments | | ($9,427,267) | | $4,515,622 | | |
| | | | | | | |
| Other Changes | | | | | | |
| Investment Income/(loss) | | $20,719,012 | | $16,869,187 | | |
| Nonrecurring Items | | $18,474,463 | | $13,082,380 | | |
| Subtotal Other Changes | | $39,193,475 | | $29,951,567 | | |
| | | | | | | |
| Change in Unrestricted Net Assets | | $29,766,208 | | $34,467,189 | | |
| | | | | | | |
| NET ASSETS BEGINNING OF YEAR | | $91,037,751 | | $120,803,959 | | |
| NET ASSETS END OF YEAR | | $120,803,959 | | $155,271,148 | | |