SCIENCE POLICY AND GOVERNMENT AFFAIRS
The AACR Office of Science Policy and Government Affairs serves as a powerful voice for the cancer research community, advocating for sustained federal investment in innovative cancer science. The office also serves as an authoritative source of information for policy makers and regulators, demonstrating the critical value of cancer research and supporting evidence-based policies that advance public health.
Science Policy and Government Affairs Committee: George D. Demetri, MD, FAACR, Chair
The AACR Science Policy and Government Affairs Committee identifies public issues of concern to the cancer research community and focuses on mechanisms for expediting cancer research. Its members engage with legislators and government agencies to educate them about these issues and to advocate for increased funding for cancer research.
Early-Career Hill Day. In February 2021, the AACR held its sixth annual Early-Career Hill Day. The AACR Associate Member Council convened 28 early-career scientist members from 17 states to engage with lawmakers via videoconference. While the participants educated legislators about the critical value of robust, sustained, and predictable funding for biomedical research, they also learned a valuable lesson about the importance of personal advocacy in advancing cancer science.
Recognition of National Cancer Research Month. The month of May was first designated by Congress as National Cancer Research Month (NCRM) in 2007 to acknowledge the 100th anniversary of the AACR's founding. In 2021, President Biden sent a letter to the AACR recognizing NCRM and affirming his administration's commitment to ending cancer as we know it. In addition, the U.S. Senate, led by Senators Diane Feinstein (D-CA) and Shelley Moore Capito (R-WV), passed a resolution affirming NCRM.
Advocacy from AACR Leadership. In May, AACR President (2021–2022) David A. Tuveson, MD, PhD, FAACR, testified before the House Appropriations Subcommittee on Labor, Health and Human Services and Education to call for increased funding for the NIH and NCI in order to increase NCI's success rate and payline. He outlined the challenges facing the cancer research community and emphasized how robust federal funding for basic, translational, and clinical research can drive progress against cancer. In July, Dr. Tuveson and the AACR Board of Directors followed up by sending a letter to the chairs and ranking members of the House and Senate Appropriations Subcommittees on Labor, Health & Human Services reiterating the vital importance of increasing the NCI payline for investigator-initiated research project grants.
AACR/AACI Joint Hill Day. In June, the AACR and the Association of American Cancer Institutes (AACI) assembled nearly 100 patient advocates, researchers, physicians, and cancer center leaders from 25 states to participate in virtual meetings with legislators to advocate for federal funding for cancer research. AACR President David A. Tuveson, MD, PhD, FAACR, and AACI President Caryn Lerman, PhD, led the virtual program, which featured remarks from U.S. Representatives Brian Higgins (D-NY) and Gus Bilirakis (R-FL).
Providing Guidance to the Biden Administration on ARPA-H. During an address to a joint session of Congress in April, President Biden proposed the establishment of an Advanced Research Projects Agency for Health (ARPA-H). Under the direction of the NIH, the agency would fund high-risk, high-reward projects intended to develop new cures and treatments for diseases such as cancer. In July, Dr. Tuveson represented the AACR on a virtual Listening Session hosted by the White House Office of Science and Technology Policy and the NIH to gather feedback on ARPA-H. In addition, in November the ARPA-H Working Group of the AACR Science Policy and Government Affairs Committee submitted a response to a Request for Information from U.S. Representatives Diana DeGette and Fred Upton on a draft of the 21st Century Cures 2.0 Act, which included the creation of ARPA-H.
Rally for Medical Research Hill Day. In September, the AACR hosted the ninth annual Rally for Medical Research Hill Day in a virtual format. As the founding organizer of the Rally, the AACR joined 350 partner organizations to convene more than 400 advocates from 46 states to participate in teleconferences with their members of Congress and congressional staff. A virtual reception held the evening before featured remarks from NIH Director Francis S. Collins, MD, PhD, and key leaders on the appropriations committees in the House and Senate, including Representatives Rosa DeLauro (D-CT) and Tom Cole (R-OK) and Senators Roy Blunt (R-MO) and Patty Murray (D-WA).
AACR Cancer Progress Report 2021. In October, Dr. Tuveson and AACR Chief Executive Officer Margaret Foti, PhD, MD (hc), hosted a virtual congressional briefing to present the 11th edition of this annual report, which provides a comprehensive overview of the remarkable progress being made because of federally funded medical research. During the briefing, report steering committee member Helen Heslop, MD, and NCI Director Norman E. Sharpless, MD, FAACR, joined Dr. Tuveson on a panel discussion with cancer survivors to discuss recent clinical breakthroughs.
Advocating for Cancer Screening. In October, Raymond N. DuBois, MD, PhD, FAACR—AACR past president and editor-in-chief of the AACR journal Cancer Prevention Research—testified before the House Energy and Commerce Subcommittee during a hearing titled, "Enhancing Public Health: Legislation to Protect Children and Families." Dr. DuBois discussed the science behind cancer screening and how emerging research in cancer prevention and treatment will benefit public health.
Regulatory Science and Policy Subcommittee: Kenneth C. Anderson, MD, FAACR, Chair
The AACR Regulatory Science and Policy Subcommittee develops and implements programs and policy initiatives to improve the development, evaluation, and regulation of cancer drugs, biologics, and devices.
AACR Annual Meeting: Regulatory Science and Policy Track. Week 2 of the virtual AACR Annual Meeting in May included a robust slate of sessions on key topics in regulatory science and policy, including a review of efforts by the FDA Oncology Center of Excellence to better reach underserved populations and build a more inclusive cancer community; a discussion of how lessons learned from the COVID-19 pandemic can be applied to streamline cancer clinical trials; an evaluation of circulating tumor DNA (ctDNA) as a prognostic biomarker of minimal residual disease (MRD) for solid tumors; and a review of racial and ethnic diversity in clinical trials evaluating hematologic malignancies.
Increasing Diversity in Clinical Trials. In June, U.S. Representative Anna Eshoo (D-CA), chair of the Energy and Commerce Health Subcommittee, proposed draft legislation that would require clinical trial diversity and equity and increase the capacity of community health centers to enroll underserved populations in clinical trials. On behalf of the AACR, Dr. Anderson submitted comments on the Diverse and Equitable Participation in Clinical Trials (DEPICT) Act.
Tobacco Products and Cancer Subcommittee: Roy S. Herbst, MD, PhD, Chair
The AACR Tobacco Products and Cancer Subcommittee fosters scientific and policy initiatives to reduce the incidence of disease and mortality due to tobacco use.
AACR/ASCO ENDS Statement. In 2015, the AACR partnered with the American Society of Clinical Oncology (ASCO) to publish a landmark joint policy statement on Electronic Nicotine Delivery Systems (ENDS). The statement noted that while some believe ENDS may be less harmful than combustible tobacco, they may still be harmful, particularly to youth, and increase the likelihood that nonsmokers or former smokers will use combustible tobacco products. The statement recommended additional research on devices such as e-cigarettes; regulation of ENDS at federal, state, and local levels; requirements that manufacturers register their products with the FDA; and prohibitions on marketing and sales directed at youths. In 2021, the subcommittee began working on an updated policy statement on this critical public health issue. Publication of the updated statement is expected in the first quarter of 2022.
Health Policy Subcommittee: Gilbert S. Omenn, MD, PhD, Chair
The AACR Health Policy Subcommittee advances policies and educational initiatives that foster the closer integration of clinical practice and cancer research.
Addressing the COVID-19 Crisis. During the virtual AACR Annual Meeting in April, AACR Health Policy Subcommittee Chair Gilbert S. Omenn, MD, PhD, joined 2020-2021 AACR President Antoni Ribas, MD, PhD, FAACR, to moderate a panel discussion on "Building Vaccine Confidence: Best Practices to Combat Misinformation and Vaccine Hesitancy in COVID-19 Vaccines." During the panel, researchers, community leaders, patient advocates, and other experts discussed ways to increase uptake of vaccinations and eradicate the COVID-19 pandemic. The panel addressed the scientific evidence that demonstrates the safety and benefit of the COVID-19 vaccines; outlined strategies that are being used to overcome misinformation and build trust in the vaccines; and answered questions that patients with cancer have about the vaccines.
Survivor and Patient Advocacy
Through its Survivor and Patient Advocacy initiatives, the AACR fosters patient engagement in the research enterprise by building relationships between patient advocates and the scientific community.
Scientist↔Survivor Program®. The AACR Scientist↔︎Survivor Program (SSP) builds enduring partnerships among leaders of the scientific, survivor, and patient advocacy communities. The AACR offered a robust slate of virtual sessions for SSP participants during the virtual AACR Annual Meeting and the virtual AACR Conference on the Science of Cancer Health Disparities in Racial/Ethnic Minorities and the Medically Underserved. Topics included clinical trial development, cancer genomics, digital pathology, tumor microenvironment, and cancer survivorship.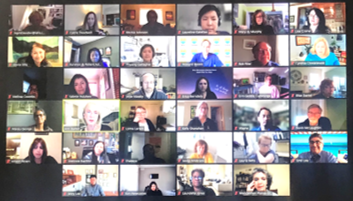 Virtual Patient Advocate Forums. Under the leadership of SSP founder Anna D. Barker, PhD, FAACR, this new educational program (which was launched in October 2020) was expanded to a quarterly series in 2021. The forum addressed recent advances in precision oncology, the promise of immuno-oncology, the potential of big data and machine learning for oncology, and how evolution shapes cancer.
Cancer Today Magazine
Cancer Today is the AACR's award-winning magazine and website for cancer patients, survivors, and caregivers, which celebrated its tenth year of publication in 2021. For the past decade, the magazine has provided a vital resource for those navigating a cancer diagnosis, treatment, or survival. Among the most read stories published in 2021 were the following: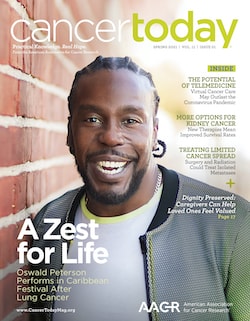 Distinguished Public Service Awards
The AACR Distinguished Public Service Award honors the extraordinary contributions of an individual or group whose groundbreaking, innovative work exemplifies the organization's mission. The AACR honored three individuals in 2021 for their outstanding efforts to advance cancer science for the benefit of patients.
2021 AACR Distinguished Public Service Awards

Charles L. Sawyers, MD, FAACR
Marie-Josée and Henry R. Kravis Chair in Human Oncology and Pathogenesis
Memorial Sloan Kettering Cancer Center
New York, New York
A world-renowned physician-scientist whose work was instrumental in developing the molecularly targeted cancer drug imatinib (Gleevec), Dr. Sawyers conceptualized AACR Project GENIE (Genomics Evidence Neoplasia Information Exchange). Launched in 2015, AACR Project GENIE is an international, pancancer registry of real-world data, built through data sharing among participating institutions, with the goal of powering precision oncology and clinical decision-making. As the founding chair of the AACR Project GENIE executive and steering committees, Dr. Sawyers provided critical guidance during the project's early years, expanding the size of the registry while promoting open science and collaboration.
Thanks to his leadership, the most recent public data release of AACR Project GENIE contained nearly 113,000 sequenced samples from more than 104,000 patients treated at 19 participating institutions, making the registry one of the largest fully public cancer genomic data sets. Dr. Sawyers received the Distinguished Public Service Award in recognition of his dedication to advancing precision medicine.

Nancy P. Pelosi
Speaker
United States House of Representatives
Washington, DC
Throughout her distinguished congressional career and now as Speaker of the U.S. House of Representatives, Rep. Pelosi has consistently advocated for robust, sustained, and predictable annual funding increases for the NIH and the NCI. As a member of the House Appropriations Committee, Rep. Pelosi helped to secure the doubling of the NIH budget from 1998 through 2003. In 2010, she provided critical support for the $10 billion the NIH received as part of the American Recovery and Reinvestment Act, which funded innovative science that improved public health and drove progress against the myriad of diseases faced by individuals all over the world, including cancer. Rep. Pelosi received the Distinguished Public Service Award in recognition of her incredible leadership and extraordinary efforts on behalf of science-related issues.

Kathy Giusti, BS, MBA
Founder and Chief Mission Officer
Multiple Myeloma Research Foundation
Boston, Massachusetts
A 25-year multiple myeloma survivor, Ms. Giusti has served as the founder and chief mission officer of the Multiple Myeloma Research Foundation (MMRF) for more than two decades. She also founded the Harvard Business School (HBS) Kraft Precision Medicine Accelerator in 2015 and serves as its cochair. Drawing upon her experience as a patient and as a pioneer in precision medicine, she developed innovative models across patient registries, big data, and clinical trials. Under her leadership, the MMRF has raised more than $500 million to advance research and has played a significant role in bringing 15 new treatments to patients. Through the HBS Kraft Precision Medicine Accelerator, Dr. Giusti has worked with more than 300 leaders from throughout the health care ecosystem to identify and share best practices for advancing precision medicine. She received the Distinguished Public Service Award in recognition of her extraordinary, steadfast, and inspirational leadership in advancing innovative multiple myeloma research and drug discovery efforts.