sections
Progress Against Cancer in 2021
Progress Against Cancer in 2021
This is a time of extraordinary promise in cancer science and medicine. In the United States, overall cancer death rates are declining steadily, and an increasing number of individuals are surviving longer after a cancer diagnosis. Transformative research and technological innovation enabled by five decades of federal investments, which were catalyzed by the National Cancer Act, have led to unprecedented progress against formerly intractable cancers such as metastatic melanoma and lung cancer. The

AACR Cancer Progress Report 2021 

provides a comprehensive overview of these research-driven breakthroughs in cancer care.
Since the onset and spread of COVID-19 in early 2020, the pandemic has negatively impacted every aspect of cancer research and patient care. Encouragingly, cancer researchers were uniquely positioned to respond to COVID-19 and have played a vital role in combating the public health crisis of COVID-19 while continuing their quest to prevent and cure cancer.
Among the 15 new treatments that were approved by the U.S. Food and Drug Administration (FDA) in 2021 are 11 molecularly targeted therapeutics that are an integral part of precision cancer medicine. The surge in the number of molecularly targeted therapeutics is being fueled by discoveries in cancer genomics wrought by multidisciplinary teams of researchers. The first ever approval of a molecularly targeted therapeutic against KRAS, one of the most frequently altered genes linked to cancer and long assumed to be "undruggable," underscores the remarkable progress in our understanding of cancer biology and represents a watershed moment in cancer drug discovery. The therapeutic, sotorasib (Lumakras), is providing a new treatment option and new hope for patients with non–small cell lung cancer such as Steve Castellaw (right).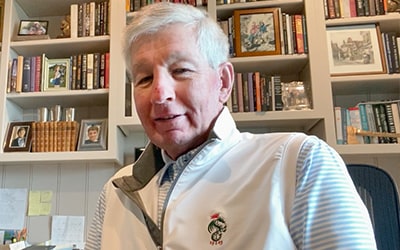 Steve Castellaw
Cancer Survivor
Another area of cancer treatment in which extraordinary progress is being made is immunotherapy. The use of immune checkpoint inhibitors—therapeutics that work by releasing brakes on natural cancer-fighting immune cells called T cells—is continuing to expand. In April 2021, the FDA approved a new immune checkpoint inhibitor, dostarlimab-gxly (Jemperli), for treatment of patients with endometrial cancer whose tumors have a specific genetic feature. Notably, in 2011, there was only one checkpoint inhibitor approved by the FDA for treating just one type of cancer. As of December 31, 2021, there are eight checkpoint inhibitors approved by the FDA—including ipilimumab and nivolumab, a combination of which has benefited patients like Susan Falbo (above)—and one or more of these therapeutics have been approved for the treatment of 18 types of cancer, including for any type of solid tumor characterized by certain molecular characteristics. Another breakthrough in cancer immunotherapy that happened in 2021 was the first approval of a CAR T-cell therapy for the treatment of patients with multiple myeloma.
As 2021–2022 AACR President David A. Tuveson, MD, PhD (right), noted in the AACR Cancer Progress Report 2021, "I look forward to a world where people can live beyond their cancer. Indeed, our prospects for making substantial advances for cancer patients through research have never been higher than today."
With the number of cancer cases diagnosed in the United States rising every year, it is vital that the AACR increase public understanding of cancer and the importance of cancer research for saving lives. These efforts are more important than ever this year given the serious disruption in cancer research and care that has been caused by the COVID-19 pandemic. The annual AACR Cancer Progress Report is a cornerstone of these educational efforts and the AACR's efforts to advocate for increased annual federal funding for government entities that drive progress against cancer and improve public health, in particular, the National Institutes of Health (NIH), National Cancer Institute (NCI), FDA, and Centers for Disease Control and Prevention (CDC).